WART REMOVAL Bradford

Welcome to Bradford Wart Removal Clinic –
We operate throughout the whole of the UK.

Book an appointment
WART REMOVAL Bradford
Our Wart Removal Bradford clinic is located in the centre of town, which makes it easy for the majority of people in or around Bradford to access our skin services. Run by our expert Nurses, our clinic has successfully treated over 4500 patients and can count on a combined total of over 75 years' experience in nursing.
WE OFFER:
At the Bradford clinic, we offer the following treatments and procedures:
Wart Removal
Skin Tag Removal
Verruca Treatment
Our treatments are administered by our clinic's trained nurses so that you can relax, knowing that you are in safe hands. To find out more about the treatments we offer or to book your free consultation, contact us by phone, text or email.
Read More
CALL
0330 043 2013
Visit us at one of our clinics for your FREE consultation.
YOUR REASSURANCE​
OUR NURSES ARE FULLY TRAINED WITH OVER 75 YEARS EXPERIENCE REGARDING ANY ISSUES YOU MAY HAVE WITH WART REMOVALS.

EASY TO BOOK APPOINTMENTS
Simply phone us, SMS us, or email us for a quick response to book your appointment.

EXPERT NURSES
With NHS backgrounds, we understand medical care for a fuller service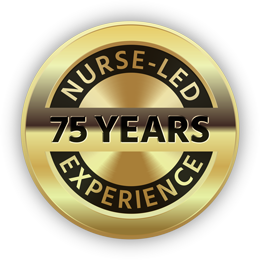 SAFE, CLINICAL SKIN TAG REMOVAL
At our Bradford wart removal clinic, we deliver skin tag removal, which is a safe and straightforward procedure. For tag removal, we use cryotherapy, which is the a process of freezing the skin tag using nitrous oxide. The skin tag freezes, cutting off the blood supply and effectively killing it. This is our preferred removal method as it's quick, painless and requires no additional preparation. However, on occasion, we might opt to use laser therapy instead, if our nurses see that as a better option. Some people can be prone to developing skin tags which is why we offer to remove several skin tags during the procedure.
While some skin tags can resemble warts, skin tags are not contagious and, when removed, won't grow back as before.
HOW WART REMOVAL CLINIC CAN HELP
One of our nursing staff will examine your skin tag to assess if it is eligible to be removed. Usually, they will be but it is important that our clinical team checks to avoid further complications down the line.
After the nurse has given the go ahead, they will treat your tag using a precision tool that looks like a pen to deliver the nitrous oxide to the stalk of the skin tag. This treatment will cut off the tag's blood supply, making it die and drop off over the next few days. While a painless process, you can experience a mild tingling sensation around the treated area.
In the days after your treatment, your skin tag will darken and drier out until it
falls off. When it does, you may find that there is a darkened patch of skin in its place. This is
nothing to worry about and will go in a few days. We advise that you don't practice your regular skincare routine until the skin has returned to its usual colour.
WART / VERRUCA REMOVAL
FAVOURED AREAS TREATED WITH BRADFORD WART REMOVAL ARE:
At the Bradford clinic, we remove skin tags, warts and treat verrucas.
To book your free consultation, contact us by phone, text or email.
WHAT ELSE?
FREE CONSULTATION
SIMPLY CALL, SMS OR EMAIL US TO ARRANGE YOUR FREE CONSULTATION. WE WANT TO UNDERSTAND YOUR ISSUES AND WHAT YOU WOULD LIKE TO ACHIEVE FROM YOUR TREATMENTS.
TREATMENTS BY EXPERTS
YOUR TREATMENTS ARE HANDLED BY OUR MEDICAL STAFF WHO HAVE OVER 75 YEARS COMBINED EXPERIENCE, WITH GENUINE CARE FOR OUR CLIENTS.
AFTER CARE
WE DON'T SIMPLY SEND YOU ON YOUR WAY AFTER A TREATMENT. WE HAVE FULL AFTER CARE PLANS WHERE NECESSARY TO ENSURE YOU ARE GETTING THE BEST RESULTS.
MAKE YOUR APPOINTMENT FOR WART REMOVALS AT ONE OF OUR CLINICS
CONTACT US TODAY TO BOOK YOUR WART REMOVAL APPOINTMENT.
Book an appointment
We offer Wart Removal around West Yorkshire in the following local areas:
Baildon | Batley | Bingley | Bradford | Brighouse | Castleford | Cleckheaton | Denholme | Dewsbury | Elland | Farsley | Featherstone | Garforth | Guiseley | Halifax | Hebden Bridge | Heckmondwike | Hemsworth | Holmfirth | Horsforth | Huddersfield | Ilkley | Keighley | Knottingley | Leeds | Meltham | Mirfield | Morley | Normanton | Ossett | Otley | Pontefract | Pudsey | Rothwell | Shipley | Silsden | South Elmsall | South Kirkby | Todmorden | Wakefield | Wetherby | Yeadon